Want to send any NFT from MetaMask as a gift without any hassle even if you don't know receiver's wallet? You've come to the right place.
In this article, you'll find the perfect Christmas gifting solution that lets you send any NFT you've already owned as a gift via email. Let's get into it!
Onboard more people to web3 through a simple concept of gifting
The best choice for a Christmas gift is to give knowledge. The second best one is to give art. Both are very important for human well-being. Both you can find in NFT.
This December, Not a Boring Gift will release a new feature that lets you choose NFT from your MetaMask and gift it to someone who doesn't even own a crypto wallet.
There's no need to shop for holiday gifts this year because the best gift is already in your wallet. It is the easiest way to make your loved one an owner of NFT and give the gift of knowledge.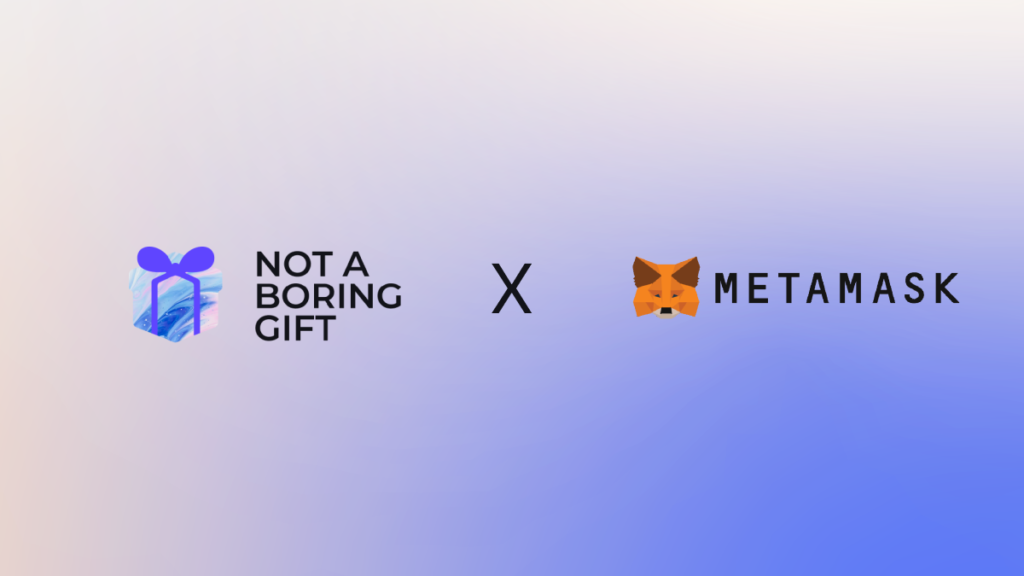 Send NFT from your MetaMask as a gift in 5 easy steps
Follow 5 easy steps:
Connect your MetaMask wallet
Add and verify your email
Choose the NFT you want to send
Add a message for your person
Add their email and send
For more details, see the walkthrough video.
What blockchain/networks are supported?
Ethereum, other networks will be added soon.
How will the final NFT gift look?
Your final gift will be delivered straight to the receiver's email.

This is an example of how it might look like: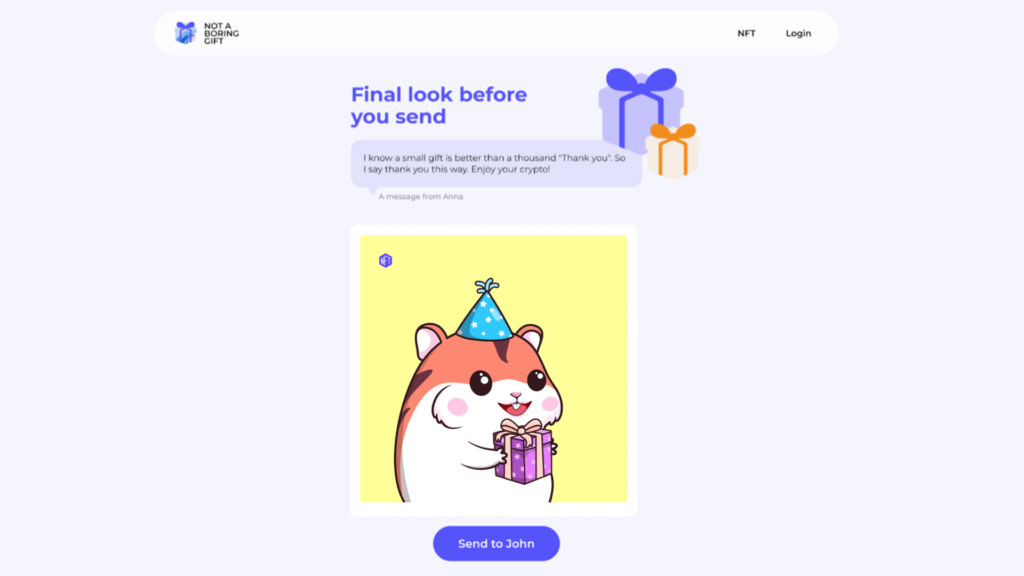 How gift receiver can claim a gift?
Open email from Not a Boring Gift
Press "Claim your NFT" button
Login / create account
You will see your NFT in "My assets" section
You can choose to withdraw or send it to someone else
If you choose to withdraw, add your wallet address in to pop-up window (Be sure to check if the wallet matches the network NFT is on)
Withdraw your NFT to your crypto wallet.

Please see the walkthrough video.
Where NFT will be stored until the receiver claims the gift?
NFT will be safely stored with Not a Boring Gift until the recipient withdraws it to their wallet. Until withdrawal, they can access their gift using the email address you added when you sent a gift.
How does it work?
Imagine us as a gift packing service – a short stop for your NFTs between one wallet and another.
Last year we gifted NFTs by creating digital wallets, writing down seed phrases on the piece of paper, and gifting them to our friends. The process was hectic. Not everyone understood why they needed a wallet, how plugins work, and what a seed phrase is.
This year we wanted to make it simple.
When you send NFT until NFT will be withdrawn it will be in our custodial wallet.
We agree that self-custody is the way to go for the industry. However, we want to bring as many users as possible to the space. Share positive emotions and celebrational spirit.
Our solution is custodial only until the user withdraws NFT to their wallet.
Is it safe to use your solution?
Our wallets are offline and we take all other security measures – such as gift withdrawals are scheduled on working days and theres is a cooling period. As well we are licensed as crypto exchange and wallet provider in the EU, and working in US under FinCen. In addition to that we constantly audited by one of the top audit companies.
However, as general advice, always do your own research and check the transfers you are signing with MetaMask.
How much does it cost?
From your side the only thing that might cost you is gas fees related to transaction. From recipients side it will cost nothing. We will cover all withdrawal fees.
More about the Not A Boring Gift
Not a Boring Gift is a project born from a basic need – gift something valuable and never seen before to the people you care about. It's the first-ever digital gift shop that offers to send crypto and NFT gifts without needing a digital wallet. All you or the gift recipient needs is a payment card and email address.
We're constantly working on the new & exciting digital gifting solutions so you can always have a stress-free gifting experience! Join our community and never buy boring gifts again.