Sale of last-minute Christmas gifts for girlfriend. These are great gifts to give last minute, as they are all available with fast shipping, and most importantly, get this…all in stock!
Not a Boring Gift is a project born from a basic need – gift something valuable and never seen before to the people you care about. It's the first-ever digital gift shop that offers to send crypto and NFT gifts without needing a digital wallet. All you or the gift recipient needs is a payment card and email address.
We're constantly working on the new & exciting digital gifting solutions so you can always have a stress-free gifting experience! Join our community and never buy boring gifts again.

1. Gift knowledge
Worried about shipping? With MasterClass, you don't have to! Choose from lessons like cooking with Gordon Ramsay and tennis with Serena Williams. You can even learn how to write books from Judy Blume. Great as a last-minute gift for your woman!
2. Amazon membership
If you're truly shopping last minute, opt for an Amazon Prime membership. It's a gift she will appreciate all year round. It costs about the same as a good bottle of wine and keeps giving in the form of free two-day shipping on most items, as well as streaming services like music, movies, and TV. Plus, there are other perks like unlimited photo storage (for her digital pictures of her kids), special discounts for being an Amazon Prime member, access to all kinds of free books and movies, free streaming videos, and more.
3. For the ambitious woman
Each day presents a new opportunity to push your limits, and engage your persistence, patience, and daring. This book is the perfect gift for any woman who is constantly seeking to improve herself, whether she's trying to get fit or advance in her career.
4. Just Dance
Whether your woman is more of a casual gamer or a hardcore one, there's probably a game out there that she'll love. Giving her a digital code, or a gift card to download the game sets up the best kind of gift because you can buy it last minute, and then all she has to do is download it on her phone or computer.


source: [link]
5. Cozy at your home
Brooklinen is the sheet set that is life-changing. The sheets are 100% Egyptian Cotton and come in seven different colors, like Fair Play and Twilight Heather. They're perfect for the last-minute gift for your woman!
6. Disney+ subscription
A one-year gift subscription to Disney+ is the perfect gift for your family or BFF. With one year of movies and shows, a binge-worthy date night is just around the corner with this one-year Netflix and chill style subscription.
7. NFT or Crypto from notaboringgift.com
The traditional gift card has been overdone and your loved one is a tech enthusiast who loves cryptocurrencies. What do you get them? We have the answer!

An NFT or Crypto from Not A Boring Gift platform might be just what you're looking for. This product is also for people who are looking for a cash or gift card alternative, as well as those who are looking for a fun & exciting gesture rather than a grand expensive gift. Most NFTs that Not A Boring Gift platform offer fits the casual gifting price range and can make it easy for anyone to buy bitcoin with no prior knowledge about cryptocurrency trading. You don't need to have an account on Coinbase or Gemini (which are two popular cryptocurrency exchanges) because we provide all services through our website's user interface so that anyone can use it with ease even if they don't know anything about cryptos! The process only requires an email address and payment card information, which makes things quick and simple.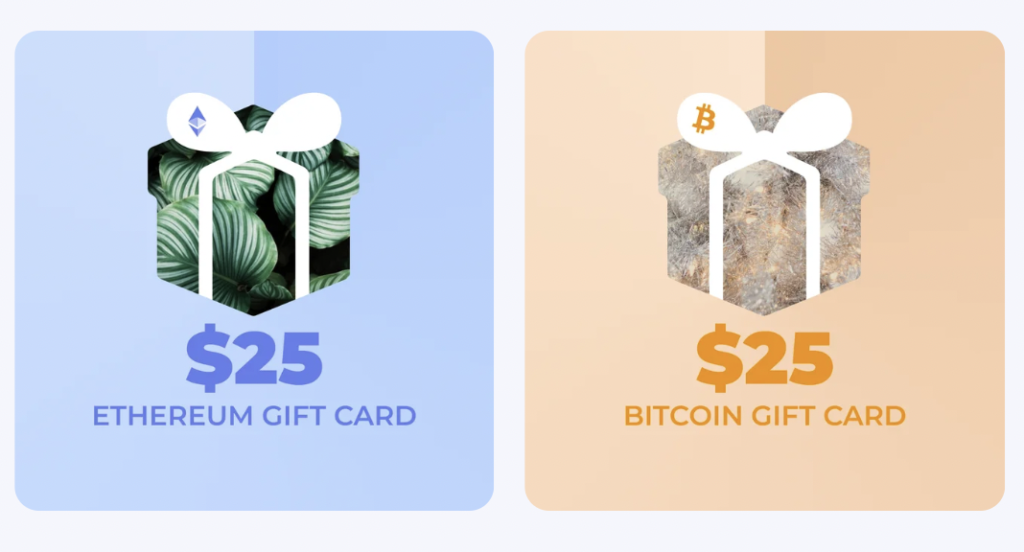 8. Shopping spree
If you're looking for a great last-minute gift for her, look no further than Madewell. A gift card from Madewell can be used to buy tons of trendy clothing including great quality denim, dresses, shoes, accessories and more. Who doesn't love a shopping spree?
9. Parachute gift card
Delight your loved one, who is more precious than gold, with the Parachute Bed Linens & Bath Towels Digital Gift Card. She'll be impressed by the thoughtfulness of your gift and the quality of our premium bedding products. We've got lovely linens with a rich history and extra-soft towels that make us feel even better after a hard day at work. Our gift card comes complete with an email-ready digital code that can be used on our website or in any store location, so you can send her exactly what she dreams about – without any risk if it's not perfect!

source: [link]
10. New luggage
An Away Luggage gift card is great for the travel enthusiast in your life. They can purchase anything from the brand's website including their great quality but well-priced suitcases that come with a portable charger depending on which size they choose.
11. Pottery Barn gift card
If your friend or family member is into furniture and decor, then they're definitely going to be head over heels for this Pottery Barn gift card. Trust us with this one! Got a last minute shopper in your life? Pottery Barn offers free shipping on all orders, making it a gift that arrives just in time.