Well, glad you've asked! Ethereum is the second biggest cryptocurrency by market capitalisation. This fact alone speaks about the seriousness of its intentions to compete and even overtake Bitcoin one day. But for now, let's stick with today's issues. Ethereum is known chiefly by its shortened name – ETH, and is widely spreading among blockchain enthusiasts. However, IT people mostly use ETH to build world-changing applications and functionalities. And in case you missed the latest Ethereum update, it became even faster and more effective.
Not a Boring Gift is a project born from a basic need – gift something valuable and never seen before to the people you care about. It's the first-ever digital gift shop that offers to send crypto and NFT gifts without needing a digital wallet. All you or the gift recipient needs is a payment card and email address.
We're constantly working on the new & exciting digital gifting solutions so you can always have a stress-free gifting experience! Join our community and never buy boring gifts again.

How Can Ethereum Be Used?
Of course, Ethereum could be an investment property in your loved ones' digital wallets. But if you haven't heard yet, it's a terrific tool for making the blockchain even more advanced. Besides value preservation, ETH is also often used in:
Programming. Various applications and functionalities in the finance, web browsing and advertising fields are already working on top of this blockchain. And just think how many more new ones are coming out.
NFTs. Ethereum is one of the mainly used blockchains for NFTs minting. That means, if you have Ethereum, you can choose and mint the preferable NFT.
Payments. Advanced applications enabled everyone to pay for goods and services with their cryptocurrency. Just transfer your crypto assets to the intermediary account and use your benefits.
Can You Gift Someone Ethereum?
Not only can you, but you need to! Crypto gifts are the category which is rapidly gaining popularity among the people. So your loved ones don't need to be extra tech-savvy or keen on blockchain innovations. All you need to be sure of is that the person who will get a gift can check their email and receive their gifts.
How to gift ETH?
Before Not a Boring Gift, if you wanted to buy Ethereum as a gift, you needed:
Create an account in crypto exchanges like Binance, Kraken, etc.
Verify your identity, place of residence and other necessary stuff.
Fund your account with dollars, euros or other currency.
Set an order to buy Ethereum.
Then you help your loved ones to create a crypto wallet by watching tutorials.
When they finally have a wallet, you can eventually transfer your gift.
And if you avoided mistypes and the wallet addresses are correct – your loved ones get the crypto gift!
Hooray, your surprise was officially ruined.
But now, we, Not a Boring Gift, have a much easier solution. Within 4 straightforward steps, anybody will be endlessly surprised!
Gift ETH in 4 simple steps
Let's take away all doubts and make them explicit. Giving a crypto gift with a Not a Boring Gift is probably one of the easiest ways which exist. So stop reinventing the wheel and follow the smooth sequence of actions below.
Step 1. Choose an Ethereum gift and create a Not a Boring Gift account.
When you come to our home page, you'll see all the available amounts of ETH: 10, 25, 35, 50, 75, 100, 150, 200, 250, 300.
Choose the one which is the best for you and the occasion and press the BUY button. After you do that, we'll ask you to create a Not a Boring Gift account, but don't worry, it's easier than you thought:
Just type your name and last name.
Enter the email address.
Verify your email.
We're done! Let's get to step 2.
Step 2. Enter all the necessary details for the purchase.
Just a casual day in the office. Just as during any of your online purchases, you need to enter your:
Payment address (your street, city and the post code)
Phone number.
Card details.
After this – process to the further step.
Step 3. Make your gift on time and personal.
After all, you know better what your loved ones are like. Don't you?
So if the celebration is happening today – send a gift instantly, and if it's yet to happen, schedule it for later. But, of course, before that, personalize your gift by filling in the name of a lucky one, choosing a message from our list, or writing something on your own.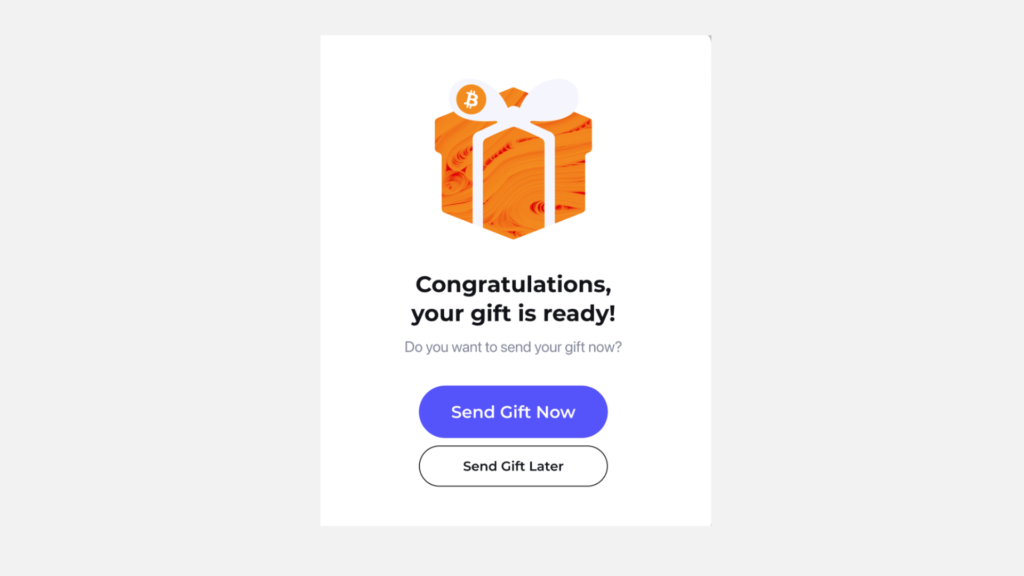 Step 4. Check everything for the last time.
Isn't she lovely? Isn't she wonderful?
We bet it is! Look at the present for the last time before she goes to the receiver. If everything seems better than expected – press the SEND button.
Congratulations on your first crypto gift!
Giving crypto as a gift is easier than you thought, right? As you already know how to give an Ethereum gift, look at what else we offer like NFT gifts.