In case you've been away from the internet for a long time, we have some news.
The US president isn't Barack Obama anymore, and there's some kind of digital currency called Bitcoin, which is constantly called digital gold. Wait whaaat??
We're joking, but we hope you get the point. Bitcoin is a deflationary currency with a limited supply of 21 million. And for now, it's the most significant cryptocurrency with the largest capitalization on the market. Probably it will always be the bulkiest because people constantly call cryptocurrencies a more generic name – Bitcoin.

Not a Boring Gift is a project born from a basic need – gift something valuable and never seen before to the people you care about. It's the first-ever digital gift shop that offers to send crypto and NFT gifts without needing a digital wallet. All you or the gift recipient needs is a payment card and email address.
We're constantly working on the new & exciting digital gifting solutions so you can always have a stress-free gifting experience! Join our community and never buy boring gifts again.
How Can Bitcoin Be Used?
Bitcoin is a reliable way to preserve wealth for tech-savvy people. And not only for them, because:
It's a great investment asset. Because of its limited supply and possibilities, it has tremendous potential to grow massively in future.
It's an innovative gift which could replace cash gifts one day.
It can be used as a currency for paying for your goods and services. Just transfer your crypto assets to the intermediary account and use your benefits.
And if you prefer to have absolute control of your assets, you can transfer them quickly into almost any digital wallet.
Can You Gift Someone Bitcoin?
This is preferable if you desire to be appreciated. And if you're looking for:
A gift for a person who distinguishes a fax machine from a laptop.
A gift to someone smart enough to have a computer and personal email.
A gift to anybody you wish to be rich in the future!
And what's the best occasion for this kind of gift? Well – you name it!
From birthday wishes to the welcome pack to the newly colleagues, make someone's day cryptastic!
How to gift BTC?
If you decide to give a crypto gift to someone you care about, you have two options:
In the first one, you'll need:
To create an account in exchange like Binance, Kraken, etc.
To verify your identity, place of residence and other boring stuff.
Transfer your currency, dollars, euros or any currency to the account.
Set an order to buy Bitcoin.
To create a digital wallet for your loved ones by watching tutorials.
And only when they have a digital wallet, you can transfer your gift.
And if you avoided mistypes and the wallet address is correct – your loved ones get the crypto gift.
The end of a more difficult path, and you've lost only a few millions of nerve cells!
But if you like to step along the beaten path, read below.
Gift BTC in 4 simple steps
Let's take away all doubts and make them explicit. Giving a crypto gift with a Not a Boring Gift is probably one of the easiest ways which exist. So stop reinventing the wheel and follow the smooth sequence of actions below.
Step 1. Choose a Bitcoin gift and create a Not a Boring Gift account.
When you come to our home page, you'll see all the available amounts of BTC: 10, 25, 35, 50, 75, 100, 150, 200, 250, 300.
Choose the one which is the best for you and the occasion and press the BUY button. After you do that, we'll ask you to create a Not a Boring Gift account, but don't worry, it's easier than you thought:
Just type your name and last name.
Enter the email address.
Verify your email.
We're done! Let's get to step 2.
Step 2. Enter all the necessary details for the purchase.
Just a casual day in the office. Just as during any of your online purchases, you need to enter your:
Payment address (your street, city and the post code)
Phone number.
Card details.
After this – process to the further step.
Step 3. Make your gift on time and personal.
After all, you know better what your loved ones are like. Don't you?
So if the celebration is happening today – send a gift instantly, and if it's yet to happen, schedule it for later. But, of course, before that, personalize your gift by filling in the name of a lucky one, choosing a message from our list, or writing something on your own.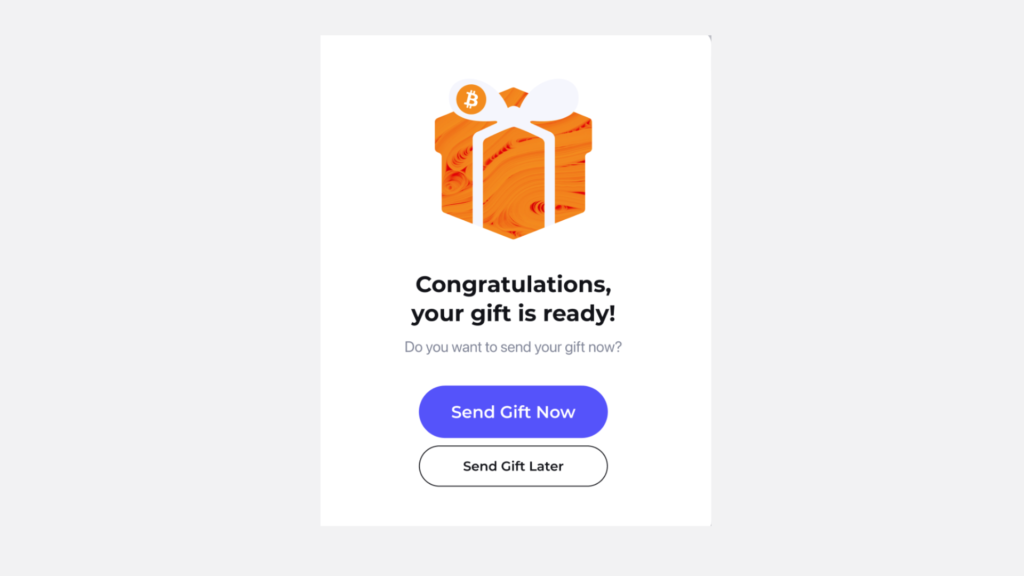 Step 4. Check everything for the last time.
Isn't she lovely? Isn't she wonderful?
We bet it is! Look at the present for the last time before she goes to the receiver. If everything seems better than expected – press the SEND button.
Congratulations on your first crypto gift!
We bet the process seemed more challenging at the beginning than now.
So as you already know how to give a Bitcoin gift, take a look at what else we have to offer like NFT gifts!