You've got clients, partners and employees for whom you've to buy gifts for this holiday season. But what could you get them? What's a good corporate gift? We've got plenty of ideas – read on to find out more!
Not a Boring Gift is a project born from a basic need – gift something valuable and never seen before to the people you care about. It's the first-ever digital gift shop that offers to send crypto and NFT gifts without needing a digital wallet. All you or the gift recipient needs is a payment card and email address.
We're constantly working on the new & exciting digital gifting solutions so you can always have a stress-free gifting experience! Join our community and never buy boring gifts again.

What is a good corporate gift?
Good corporate gifts are thoughtful, useful, unique, memorable and timely. If you want to impress your clients, here are five things to consider when choosing a gift:
Consider the recipient's needs. A great way to ensure that your gift is appropriate is to do some research on the recipient company and its employees. Find out what they do and how they operate—and make sure that your gift meets those needs!
Think about the budget. If you're looking for something more expensive than Starbucks cards or Amazon Prime subscriptions (which aren't exactly bad ideas), then it's probably worth putting some thought into how much money you'd like to spend on your clients' presents.
Bring it back down to reality with practicality in mind—but don't be afraid of being creative! After all, giving them something practical shows that you truly care about their work environment and well-being without going overboard with extravagance—as long as it's still fun enough for them not to forget about it later on down the road.
What can I get my team at work for Christmas?
The gifts you choose for your co-workers should be useful, in some way. This doesn't mean they have to be practical or pragmatic—but it does mean that the recipient will get a lot of use out of whatever you give them. The best kind of gift for your team at work is one that brings some joy into their lives and makes their jobs easier or more enjoyable in some way.
Corporate christmas gift ideas for employees
NFT from notaboringgift.com
If you are looking for something different and fun, NFTs might be the ideal gift.
Not A Boring Gift platform offers a wide range of NFTs that can give your loved one a pleasant surprise. This is also a great option if you search for cash or gift card alternatives. Most gifts that the Not A Boring Gift platform offer fits the casual gifting price range. You or your recipient don't need to have a digital wallet, all you need is a payment card and email address.

2. Bitcoin or ETH gift
When you have no clue what to give as a gift – choose crypto, a digital gift with a potential and 100% ownership. Crypto is a splendid gift equivalent to anybody who always asks for cash. Unfortunately, the value of money declines under inflation, while crypto has the potential to grow exponentially.
Bitcoin or Ethereum is a perfect fit for a person with zero or little knowledge of crypto because it's the most robust, reliable and widely available cryptocurrency.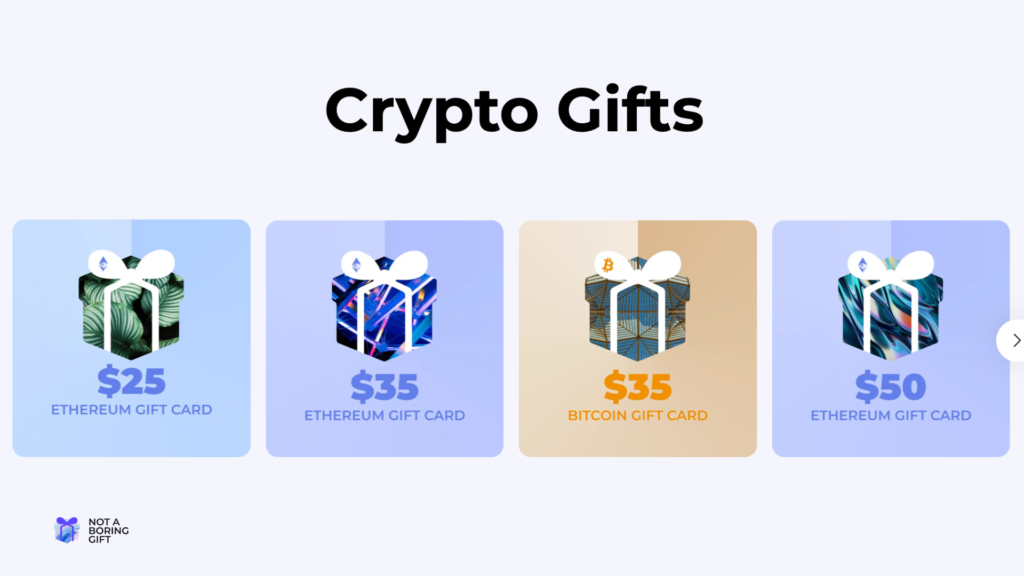 3. Not a boring gift CO2 credits
It's one of the best ways to raise awareness about the impact of climate change on human life. Help your co-workers to balance out their carbon footprint by gifting this sustainable gift! This gift will be available soon on Not A Boring Gift! Join our community and be updated about the release date!

Not a Boring Gift is a exclusive service that helps:
Instantly solve any gift-related issues at work.
Show exceptional attention to your remote staff.
Raise the motivation of your colleagues.
All you need to do is tell us WHO is the lucky one and WHEN to surprise him or her.
That's it. We'll do the rest. Email us at [email protected] and let's talk about unique gift idea for your team!
Corporate Christmas gift ideas for clients & partners
Tropical Fruit delivery
Tropical food delivery is the best way to bring a taste of the tropics to your partners this Christmas. We know how hard it can be to find and enjoy fresh tropical produce, so we've made it easy for you. You can go with a gift card or with a gift box.
Public Goods gift sets
I bet you haven't seen more elegant gift boxes than those from Public Goods. Their products are made from wholesome ingredients that are always clearly labeled. They're free of parabens, sulfates, toxic chemicals, and unnecessary additives—a perfect gift for anyone who's into natural beauty products. Plus, they're ethically sourced and fairly traded! So if you're looking for a Christmas present that's as good for the earth as it is for the person receiving it, look no further than Public Goods.
BeanBox Coffee + Chocolate Tasting Box
Coffee + Chocolate Tasting Box™, and it pairs our favorite coffees with artisan chocolates to create the perfect symphony of flavor. The best part? You don't have to be a professional coffee or chocolate expert to enjoy each pairing. Our tasting notes are included in every box so you can learn more about what makes each coffee and chocolate so special.
BREO BOX
BREO BOX works for both men and women, as it's curated with the coolest and most unique products that you never knew you needed. This is such an awesome Christmas gift for everyone!
'You're On Mute' Mug
If you've got clients or partners that spend a lot of time on conference calls and webinars, this "You're On Mute" Coffee Mug is for them. It gets their attention and points out when they're on mute in a fun way. The writing is physically impressed into the clay so it won't flake off like some cheaper printings. Your partners will love that the mug is dishwasher and microwave safe.
Conclusion
We hope this gift guide helped you find the perfect gift for your team, colleagues or business partners! If you have more digital gift ideas for web3 people, share them with us on Twitter.